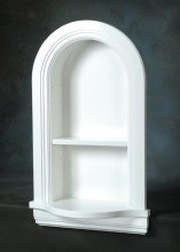 Franco Goodman knows about change. The millwork firm his family operates "has gone through enough change for three companies. Our customer base has changed ten times over 50 years," Goodman says, and the key to its continuing success is "nimbleness – market flexibility."
He should know. Evidence of flexibility in the face of market change can be seen throughout Goodman Millwork's multi-acre site in Salisbury, North Carolina, where there's more than enough vacant land to contain a vast lumber yard – no longer there — and where a steam engine that once powered their plant sits waiting for a future assignment.
The company was founded in 1907 when brothers Enoch and Linus Goodman got tired of working in other people's businesses and started one of their own: a portable sawmill. Their competitive advantage was hauling the mill to the trees instead of asking the woodlot owner to haul his trees to the mill.
Ingenuity like that – along with the brothers' insistence on handshake country quality – earned them a reputation as the kind of folks you could count on, which they put to work building Goodman Lumber Company. In time, they located the business on a site in town after their wives insisted on a more permanent setup not so far out in the country. The slogan (tagline) that served them for the next 70 years or so was Everything for the Builder, From the Foundation to the Roof.