Goodman Millwork is here to help design and make this experience as simple for you as possible.  Different rooms vary with all different kinds of one of a kind craftsmanship.  We pride ourselves on making beautiful, lasting period mouldings and architectural millwork.  Your complete satisfaction with our products and services is our first and only concern.  Each room is specifically designed to fit your needs and turn your visions into reality!
A kitchen is a place for gatherings, enjoyment and conversation.  A place to make memories, and you can make those memories a touch more beautiful by picking the right design for your kitchen.  When you design a kitchen with Goodman Millwork you know that you're receiving the finest quality of materials and craftsmanship.  We want to help design a kitchen that fits you and your lifestyle.  That's why our process is personal. We involve you in our kitchen design process from the very beginning and every step along the way.
Enhance your living area with great looking custom designed cabinets and open shelving units that hide unsightly wires, store entertainment equipment, display photos and hold books.  Whether you are entertaining guests or taking care of your family, your living spaces must meet the demands of your lifestyle.  Goodman Millwork knows this and is ready to assist in creating a beautiful living space that is as practical or as opulent as you desire.  Our approach is customized and understanding our client's lifestyle is the first step to creating a happy home.
Your bedroom is the one room in your home that should be personally obliging.  The decor style should be on that you find most appealing.  Here at Goodman Millwork, we can create custom built-ins, cabinetry and unique furniture to help your bedroom storage needs.  We will make sure your bedroom has the space it needs for all your bedroom furniture to fit.  Let us help you create the custom designed bedroom of your dreams.
When designed appropriately and with skill, a laundry room can provide your home with functional storage and utility.  The ease that comes from working in a highly functional and intelligently organized laundry room can help you to finish your laundry in a fraction of the time.  Goodman Millwork will help you maximize your space and keep you organized for your laundry room needs.
Custom closets do much more than provide space for your clothing and shoes.  Stepping into a closet, whether it's large or small, that has your clothing and wardrobe accessories organized in the way that is most convenient   for you is sure to be a positive experience.  A custom closet is a justifiable indulgence that offers numerous benefits.  It keeps the room neat, makes selecting your wardrobe an easier process and keeps accessories accessible.  Goodman Millwork can help you maximize your space with custom closets designed to help you stay organized.
The mudroom is the entrance to your home and creates the first impression of your home's design.    A mudroom will provide you and your family with well thought-out storage for your jackets, shoes and umbrellas.  Goodman Millwork will help you keep your everyday usage organized for your mudroom with a custom storage solution.
A well-designed custom office can make a world of difference when you work from home.  You can achieve a serene, relaxing and comforting effect in your study by applying the right design to your room's style.  Your preferences and design goals are crucial every step of the way so that Goodman Millwork seamlessly turn your office/study into the space you have always wanted to be in.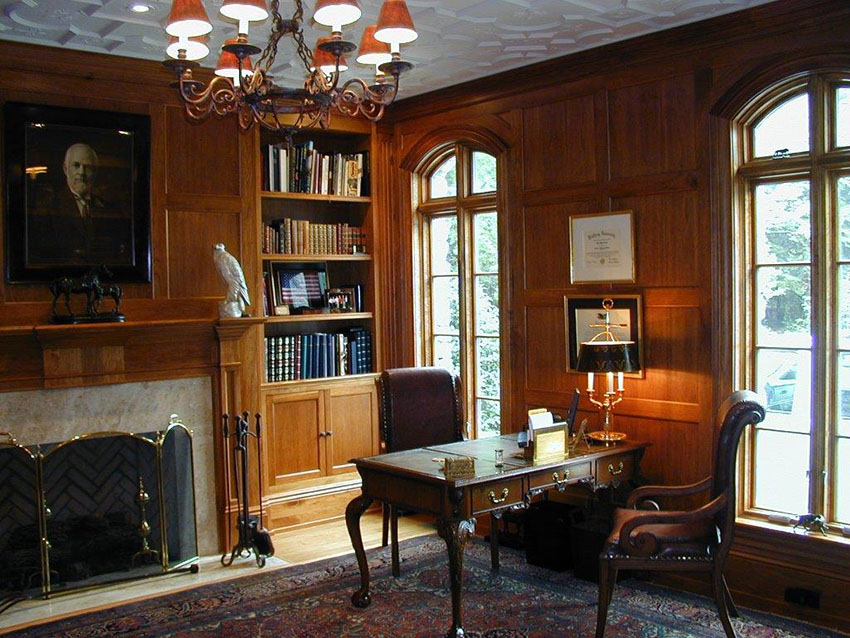 Fire pits, swimming areas, fountains or an outdoor kitchen, all beautiful additions that bring your family and visitors enjoyment throughout the year.  If you're looking to incorporate any custom millwork to the great outdoors, Goodman Millwork can help incorporate with you on your outdoor experience.  Enjoy the outdoors by letting us fulfill your entertaining or peaceful needs.
At Goodman Millwork, we will be able to show you several ways you can beautifully fill that unique space, use it to open up the room, or turn it into space that adds functional organization.  With unique and custom designs every area of your home can be made just to your liking, regardless of how awkward or uncommon the area is.  From stand alone cabinets to built-ins to front gate entrances, here at Goodman Millwork we can help build a custom design project for your needs.  Big or small, our projects are drawn out, measured precisely and built to your standards.